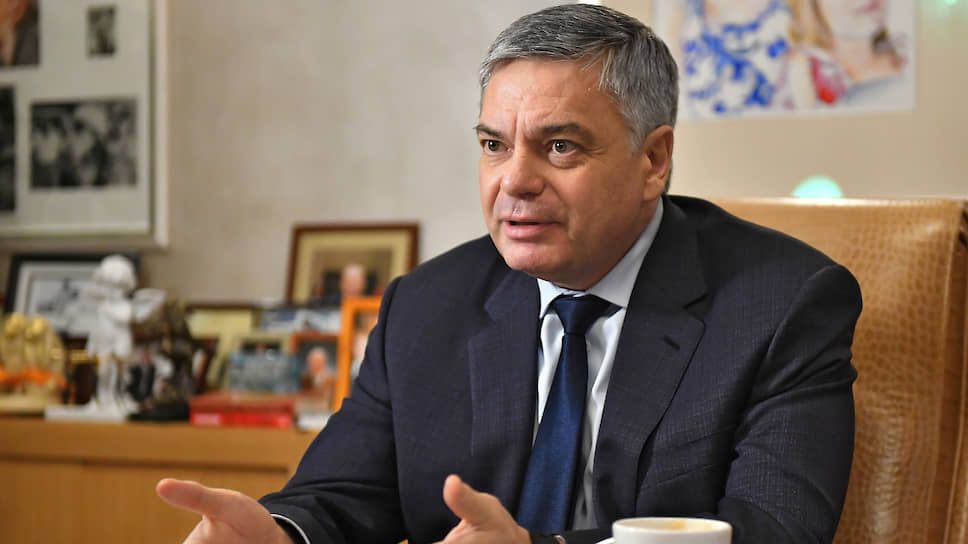 One of the most anticipated and major deals of 2019 - a sale of TransContainer -went through a month ago. The results of the auction were a surprise for the entire market: the Delo group gained control of the company for 60 billion rubles in the fight against the structures of Roman Abramovich and Vladimir Lisin. And almost immediately after that, just as suddenly, it turned out that Rosatom buys 30% in the Group itself. The owner of Delo Group, Sergey Shishkarev told us in the first interview to "Kommersant" after the deal, how until recently the medium-scale group managed to win, why it should partner with the state corporation and what will happen with TransContainer.
— When did you start negotiations with Rosatom about acquiring a stake in the capital of MC Delo?
— Over the past year, since the beginning of February, I have been negotiating with five structures. I can't talk about one of them, because I probably don't have a mandate. There were talks with AFK Sistema and DP World. The talks with the last one were most intensive: trips to Dubai, meetings here. And I conducted negotiations with Rosatom. They started entirely by accident: I was asked to give an expert opinion of Rosatom concept regarding creation within five years of a shipping company and a container line ranking 15th in the world using the North Sea Route (NSR). In my view, this is unlikely. It is impossible to operate only NSR — there should be multi-purpose transportation routes. The dialogue began from that point.
— That is, the Rosatom concept of getting into the position of one of the leading sea carriers was already in a high readiness at that time?
— There was such a desire, goals. But the ways, in which they were going to accomplish these goals, in my opinion, looked very problematic. I said that it was not enough to use NSR and the icebreaking fleet in the proposed concept: the shipping belongs to major shipping companies, the ports - to stevedores (including us). All the rest are years, decades of work. And experimental operations in NSR began just while we were engaged in the dialogue. They were not directly linked to icebreaking fleet, but we dispatches the equipment on the North Sea Route lighter-carrier ship along the route Petrolesport (St. Petersburg) — Eastern stevedoring company (Nakhodka), and we arranged for carriage of containers in the opposite direction using Maersk container line. This all was accomplished and proved that further dialogue is possible.
— and what does TransContainer have to do with It?
— The history of TransContainer developed in parallel. TransContainer was actively discussed with DP World and AFK Sistema.
— How did the negotiations turn out?
— We provided all information we have, but as always, it's a time handicap or maybe a lack of deep knowledge of the company, a combination of both. Although there was an interesting dialogue with Vladimir Petrovich (Vladimir Yevtushenkov, the owner of AFK Systema.- "Kommersant"), based on the fact that they know us. The AFK subsidiary (agricultural holding "Step".- "Kommersant") is our second largest client at KSK (grain terminal of Delo Group on the Black sea.- "Kommersant") after Cargill. Moreover, we productively cooperate on the market of grain export transshipment in the Novorossiysk transport hub. From the point of view of purely business relations, it seemed to me that we had very good prerequisites for building a dialogue properly.
— Why hasn't the TransContainer partnership work out?
— A large team was assembled to carry out due diligence, but the scheme that was offered to me turned out unacceptable.
— And did they come with an eye to TransContainer?
— They were interested in both assets.
— Did Sistema want to acquire a minority stake?
— Yes.
— What did you negotiate with DP World?
— The story is even more interesting there. They have got farthest considering our experience of cooperation on DPW's failed acquisition of a 49 percent stake in the NUTEP container terminal in 2016.
— By the way, why did that deal fall through?
— The Statute of limitations has passed, and I can tell you why. After all, we spent almost a year, and in the final negotiations with Sultan Ahmed Bin Sulayem (the head of DP World.- "Kommersant") it became clear that DPW intends to get consolidation and control in the terminal. I didn't understand why the process was slowing down, because we met halfway on many terms. Ahmed Bin Sulayem said that DPW plans to acquire a 49% stake in NUTEP at multiplier six (EBITDA.- "Kommersant"). Before that, we had completely different arrangements. DPW appealed to the experience of NCSP deals, and our arguments that the future partner acquires a growing business, a terminal that will give more and more from year to year, were not accepted. In fact, I was right. But then I turned around, got up and left.
— What went wrong with TransContainer?
— In the new iteration of negotiations, the scheme was very interesting. They offered not bank financing, but a loan secured by a future share. And two years later, the share was not to be 25%, as required by the terms of the auction, but 49%. The deal fell through for trivial reasons: we did not agree in the value. In addition, the plans of foreign partners included gaining control over Delo company some time later. This was unacceptable to me not only for reasons of patriotism, but also in connection with the current statutory provisions.
— How did all these negotiations relate to each other and at what point did Rosatom appear?
— All these processes went in parallel. As I said before, negotiations with Rosatom have been in progress since February. But this is in a sense a good thing, because due diligence and the involvement of auditors allowed us to study the company in detail, which did not leave the state corporation in doubt when making a decision.
— Which of Rosatom structures do you actually interact with?
— The major part of negotiations involved the first Deputy General Director, Kirill Komarov. Atomenergoprom became our input structure. If appropriate, I can only complementarily express myself in this regard from the point of view of economic knowledge and the speed of immersion in the subject, the perception of the material. Everything is easy to explain, to convey substantive issues in any presentations. I hear that I am understood, that my ideas are interesting, that the proposed synergies, alternatives and grand schemes that we organize find resonance.
— What are the terms of your agreements with Rosatom?
- Most simple. Rosatom acquired 30% and became a minority shareholder.
We build normal joint-stock relations with Rosatom with the respective 30% set of rights and powers.
It is envisaged that one or two persons will join the management bodies of MC Delo and key assets. I am for transparency, but against any skeletons in the closet.
— Did Rosatom acquire a stake for money?
— Exclusively for money.
— Did you have any problems with the approval of the bid for TransContainer or claims on the part of the government after the auction? After all according to the rules you have won by a slim margin: 30% in the capital of the state company, it is planned to create a sea container carrier, which is prohibited.
— The deals were consistent, but even from the point of view of the auction documentation, nothing has been violated. Today Rosatom is not a container carrier in the classical sense. This is an overlap of two processes. Does it look different?
— It's harder to believe in a coincidence like this than a cunning plan.
— No, there is no cunning plan. In fact, we agreed on the terms of Rosatom's joining in the group as back as mid-October. Then came the corporate procedures of Rosatom, and in parallel - the process concerning TransContainer, which we could neither advance, nor adjust something thereto. An agreement with Rosatom was reached, and the deal would have been closed regardless of the outcomes of the auction for acquisition of the stake in TransContainer.
— Meanwhile, maturity of obligation under the loan taken out by the group from Sberbank coincides with the end of the moratorium on sale of the share of Russian Railways in TransContainer.
— We have signed a credit agreement for a period of seven years.
— I'll put it another way: are you going to sell it at the end of the moratorium on TransContainer?
— Oh, that's what you're talking about... Definitely not. We bought TransContainer for ourselves to strengthen the group and create a national transport champion. The moratorium on resale of TransContainer is a circumstance that does not limit us, but obliges us to make the group more stable in two years time, to return the maximum amount of money under the loan and face the future with confidence.
— After the auction, you said that you would like to keep VTB among the shareholders (24.84%). Is there any progress in negotiations in this regard?
— No progress, I plan to ask this question in the next few days, before the New year. My interest is to keep VTB as a shareholder. There are two reasons for this. The first is to reduce the loan exposure. The second is that VTB is and remains our interesting negotiating partner in the grain business. We have something to discuss. For example, the relationship in the transshipment of grain in the south of Russia. KSK is the third independent grain terminal in terms of volume, and we are finishing the year quite well.
— There were some negotiations regarding COFCO, so why did they break off?
— They asked to freeze negotiations for a year. Six months passed. The ostensible purpose of this explained to me by the President of COFCO is as follows. COFCO International is a company involving international financial institutions as well, and the deal concerning KSK joining is blocked by one of the private equity funds. There is also the Salic group, Saudi Arabia. We met them during the President's visit to this country and have already exchanged working visits. They have ambitions - shipment of about 2.5 million tons to Saudi Arabia; they want to develop a joint business for grain export in Russia.
— Will they be allowed to buy KSK?
— In this case, we are talking about 25%.
— So this is a minority stake plus volume guarantees?
— Yes, as in the case of COFCO.
— Are there any other stakeholders?
— In the current market conditions, the interest in acquiring a stake in the terminal is high.
— Coming back to the offer for TransContainer, is it already clear that Yenisei Capital of Roman Abramovich and Alexander Abramov (24.74%) will accept it?
— We're going through the procedure.
— Have you talked to them yet?
— Not technically. The official offer shall be submitted in January, after which the shareholder will have 70 days to accept it. But when I say that VTB could remain a shareholder of the group, the same applies to Yenisei Capital. If they want to develop a company with us, why not look for additional synergies when entering new markets or for cooperation in the Far East. There are no initiatives yet.
— What volume of loans did you raise for redemption of the TransContainer stock and the mandatory offer?
— Our credit limit with Sberbank is 120 billion rubles.
— Is this the only source of credit?
— No, we have loans taken out by group and related to construction and modernization of production facilities. But the biggest one is the Sberbank loan. We have assessed this burden in relation to TransContainer's revenue, EBITDA and potential gain, and we consider it quite comfortable and feasible. Besides we expect synergies from the pooling of assets.
— How long do you plan to recoup your investment in the acquisition of TransContainer?
— Seven years at most, but the target model is five years.
— How do you plan to develop the company?
— I general, we plan to make the group the interface of transport services of the Russian Federation. Nothing more, no less. We want any shipper and consignee anywhere in the world, primarily containers, to be able to deliver and obtain services from point A to point B on a global scale through a single window. We have a relationship with the leading container lines, we have our own mini-interface embodied in Ruskon, which is already doing something similar, and TransContainer appears with their program iSales, which does the same. It is necessary to combine all these resources as quickly as possible through the strategic group that I am currently creating, so that, understanding that you need to get from Abu Dhabi to Murmansk, and clicking on the computer button, the client receives the service for a certain period and a certain amount of money. I am keen on making us able to act as a kind of provider of various transport and logistics opportunities of the Russian Federation through a network of our trade representations abroad, including NSR and transit crossings, and the southern route.
— Will it require to change TransContainer's strategy to do that?
— We're looking into it. Recently Vyacheslav Saraev (the General Director of TransContainer.- "Kommersant") told that "there are brainstorming sessions". It's very important to us: a) to do no harm; b) to add a development strategy of GC Delo, including Global Ports. And not to mix all this, but to add missing elements carefully in order to make the model of movement of goods through the territory of the Russian Federation available to the client.
— At the time of joining Global Ports, you had serious restrictive conditions associated with the presence of structures of the Danish Maersk APM Terminals (APMT) in the capital. Did the appearance of Rosatom in Delo affect the relations of shareholders within Global Ports? How does Maersk feel about all this?
— On December 6, Global Ports held a meeting of the Board of Directors. APMT expressed positive feedback and supported the ongoing changes. Maersk was going to create an internal railway operator in Russia. This is probably unlikely now. I don't see any conflict of interest. No explanation was needed on this point, at any rate. From the point of view of global policy Rosatom probably does not cause wild delight in anyone there. But, on the other hand, it is a company that is not under sanctions, that operates on world markets, is a leader in its industry, builds nuclear power plants around the world and promotes the latest technologies not only in nuclear industry. So far, our partners from Denmark have not expressed any skepticism, uncertainty or doubts about this, neither in written nor in oral form.
— Maersk is the only one of the global container lines that maintains close relations with Rosatom and Atomflot.
— Moreover, it successfully develops these relations.
— Are you talking about using the North Sea Route?
— Yes. But Maersk is a very promising and interesting company for us, for Rosatom, including from another point of view. It is ahead of the rest of the planet in terms of low-sulfur fuel, engine construction and transition to a virtually environmentally friendly fleet by 2030.
The meeting with the Deputy Minister of Transport, Yuri Tsvetkov, is scheduled for January 16, and one of the issues on the agenda is NSR and creation of engines operating on low-sulfur fuel. Maersk is ready to switch to methanol - even at the expense of its own economics, to put a feeder vessel on a small stability arm on the Baltic Sea, which would work at a loss, but slowly ran in the methanol topic. Rosatom is extremely interested in this. Because methanol is a very interesting direction, it is associated with deep processing of gas and the transition to more environmentally friendly fuels.
Here, oddly enough, we have if not an association, then interesting sketches of potential future cooperation to create an environmentally friendly fleet. And since Maersk is the number one in the world, the ambitions to transfer the entire fleet to low-sulfur fuel by 2030, and even to cooperate with Russian oil and gas companies, seem to me a very interesting, beautiful, promising topic.
— Are there any specific projects?
— We're thinking of two. The project of one of my partners, whom I cannot name, who wants to build a plant with an output of about 2 million tons of methanol in Ust-Luga (the similar projects were announced by the Safmar group, the Baltic gas chemical company and Ruskhimcom of Vitaly Yuzhilin in 2018-2019 .- "Kommersant"). And we want to see modestly with our southern ambitions, whether something like this should be built in the Krasnodar region, to see if it is possible to use this fuel, to which we will switch to sooner or later in accordance with IMO standards. In this regard, Maersk and Rosatom are our allies. Here we can only talk about close cooperation in the future, and not about signing any memoranda.
— Why is Rosatom interested in methanol?
— This is important in the context of the fact that many companies are skeptical about SNR from an environmental point of view in terms of preserving the Arctic.
— Coming back to Global Ports, there was previously a concept of possible exchange of shares with Delo to pool assets. Has it receded into the past?
— No, it's just that the TransContainer topic has overshadowed it so far. You can't do both. We see the synergy from the merger with TransContainer. The topic of exchange of shares is relevant and is preserved. But until the story of Global Ports goes to the background, there are other things to worry about.
We need to finish structuring everything we have planned for TransContainer. The shares have been redistributed, some of them have been paid up according to the offer; as I have already said, we will either be ahead, negotiate, or act in accordance with the law. And in the long run, perhaps, there will be a topic with Maersk.
— And who's going to run this whole sprawling business?
— I haven't formed a leadership pool yet. There will be candidates before the New year, and a management team will appear in January, but we can't reveal the names yet, as negotiations are under way.
— What exactly is the concept of creating a global transport and logistics block? How do your plans correlate with the plans of Rosatom?
— They are strongly correlated. We have agreed on three fundamental things with Rosatom. First: as a transport and logistics operator, we will handle all the cargo that they deliver today for the construction of their own nuclear power plants. We are not talking about nuclear fuel, but about construction materials, oversized cargo. All this costs a lot of money, because they have to do it. We are ready to offer effective logistics solutions. The second part is related to development of NSR. And there is no contradiction here with the cargo flow of 80 million tons, which was planned by Rosatom by 2024, and I would talk about a larger volume, because this year alone there are already 25 million tons.
We do not claim to export hydrocarbons, energy groups of products from Yamal LNG and other NOVATEK projects. We are talking about the supply of the Far North, as well as of ensuring movement of goods from east to west, and most importantly, from west to east in the summer navigation. As soon as we convince the client to take the goods from Hamburg and Gdansk in the direction of the Far East on the NSR, there will be a revolution. I give it two to three years.
There will be a completely different economy, when the loading appears at least in the summer navigation in two directions. Two fundamentally important things must come together here. This is a transit from east to west and from west to east along the territory of the Russian Federation, that is, TransContainer. And the northern route; everything will be launched as soon as the client forms a clear interchangeable alternative to the NSR and the central path with TransContainer, and even we will learn to select the route at a cost depending on the speed.
— But the economy of sea and rail transport is completely different.
— Different. But we must learn to mutually subsidize transportation, creating a common economy, making them universal. So that the customer does not care how the container goes in the case of a set price, term and safety. Yes, I'm talking about a bit of futuristic stuff. But that's our goal, our plan; we're going to do it. And only later, in three-five years, it will be necessary to transport cargo on the NSR in wintertime. With its own parameters of movement and in the presence of icebreaking fleet that Rosatom will build.
— Aren't you afraid that the southern Suez route will still override you, including prices?
— Our main advantage is speed. Transportation for 20 and 40 days is a fundamentally different price. And at the first stage, we still have the southern gate -Novorossiysk.
Our ambitions with Rosatom coincide in the fact that we are heading for gradual construction of our own container fleet. It will start operating on small stability arms, first of all in the Far East; this is Korea, Japan, maybe East China. And this is the South of Russia, the Black Sea-Mediterranean basin. And the most difficult thing is small volume feeder transportation in the Baltic Sea. Integration into the overall logistics chain here is also possible.
— A purchase of what kind of vessels are we talking about, in what quantities and at what price?
— For a start, these are feeders with capacity of no more than 3 thousand, perhaps from 1.5–2 thousand TEU. We will start immediately as soon as we form a general management structure. I think that yet by the summer of 2020 there will be a development program in this direction, which will certainly be agreed with Rosatom.
— You explained why you need Rosatom. And why does Rosatom need Delo?
— To be engaged with transportation of its own cargo, to provide transportation on the NSR, not only increasing export of hydrocarbons, but also developing a completely different paradigm, including through container traffic. Rosatom believes in this. And finally, we want to cooperate with Rosatom in the area of digitalization, education, and training of new personnel with new logistics thinking across the Russian Federation.
— Do you have an interest in FESCO?
— Yes, and a very strong one.
— And how do you plan to implement it? Where to get that much money?
— We're working on it now. I will talk to Rosatom and maybe look for a scheme, a formula that will allow us to come up with a proposal.
Our current set of FESCO assets fits perfectly. Another thing is that there is already the issue of antitrust regulation.
It might not be so easy to get permission. But maybe we will cooperate with someone, for example, with one of the international transport agents.
— Do you plan to exit any assets?
— Only non-core ones. During the existence of Delo group I have set up a lot of social and household things. There is an understanding that you need to focus on the core business.
— Do you mean real estate and land in the first place?
— Real estate, land and those businesses that are located outside the perimeter of MC Delo. There were different trips, including IT, cyber security and even production of cheese.
— Will you sell everything? No cheese?
— There will be cheese, but it will be made by those who are better up with it. Although I will continue to be engaged in my favorite topics, such as handball. The Olympic Games are ahead. The girls took bronze medals at the world Championships, which I am immensely happy about. But there is a very difficult cycle ahead. WADA, all these topics that are well known to you.
I'm not quitting this. I created the women's handball club CSKA, the men's handball club Spartak, and I does not leave Krasnodar Kuban. I expect big changes in the Handball Federation after the Olympic Games, we need to inject new blood, attract more ambitious result-oriented young people, the former athletes, who will help to carry this disabling burden further. But from the point of view of social activity, hobbies are the only thing that I have.
— As early as three years back you talked about the grain business as a promising direction of development, you bought a stake in Myrogroup, but already sold it. Do you also consider this business to be non-core now?
—Yes. The situation has changed in view of acquisition by VTB of stake in Myrogroup Resources. We continue to develop our own grain stevedoring business, we maintain a dialogue with key customers, and we have built proper communications with the competitive environment. We do not plan to go back to trading in grains.
— Have you exited all grain assets except the KSK terminal?
— Yes, except for KSK and non-port terminals. I will not hide the fact that we will develop our own fleet of grain carriers, since there are railway competences, to provide this service to large customers. This can be a rent, leasing or purchase of rolling stock, we will decide in the near future. But I think that we will supply all the needs of our terminal in the rolling stock by the new season.
— How many cars do you need?
— Probably, 4-4,5 thousand. Our production capacity is growing and we are investing in grain terminal. In a year and a half we will commission a new berth; we must provide capacity for 7 million tons of transshipment per year for the clients.
—Are you talking about the possibility of internal subsidies within the group between land and sea transport. How much traffic can we talk about?
- Tens of thousands of TEUs. Of course, these will be experimental shipments. But by strengthening one direction, we will strengthen the other. The experiment requires a lot, there is no room for mistake. We will declare general mobilization and prove to ourselves and the clients that it is possible and realistic.
I want to do something grand on the sixth ten. I am going to meet Alexander Potapov (General Director of Uralvagonzavod.- "Kommersant") to discuss production of a large batch of refrigerated containers. They want to build, but meanwhile there is physically not enough time to finish everything. People in general offer non-trivial ideas for filling our business. And indeed, in the current "golden triangle" with three basins, we can do almost everything; we event start thinking about "last mile"; to increase the car fleet, to compete with door-to-door delivery.
— Is there any fleet yet?
— TransContainer has almost 500 trucks and we have 200 car carriers of our own. This is another big topic. I always said: transport will give a job to everybody.
— You were actively involved in operation of the state commission for the Arctic, but at the time, when there was not much attention to the region. Then you left, and now the Arctic has become one of the main topics for your business as well. Are you planning to return to the commission?
- Yes, I am. I think it's very appropriate now.
Sergey Nikolaevich Shishkarev Personal file
Was born on February 2, 1968 in Novorossiysk. Graduated from the Military Red Banner Institute (1992), the Academy of Civil Service (2003), served in the marine corps in the Northern Fleet, the Doctor of Law.
Founded the forwarding company Delo in Novorossiysk in 1993, which became the foundation for the Delo group of companies, and headed it until 1999. In 1999, 2003 and 2007 he was elected to the State Duma. In 2003, he ran for mayor of Novorossiysk. In 2008-2011, he led the parliamentary delegation at the Assembly of the Black Sea Economic Cooperation. In 2012-2015, he was a member of the expert Council at the government of the Russian Federation. Since 2013 — the first Deputy Chairman of the Maritime Board at the government. In 2015-2016, he was a member of the State Commission for the Development of the Arctic.
The main owner of Delo group, since 2014 - the President of the group. He was awarded the Medal of the Order of Merits for the Motherland of the 2nd degree. He is the head of the Russian Handball Federation since 2015; in 2017 he was awarded the order of Friendship for the successful preparation of athletes for the 2016 Olympics.
Delo group of companies
Company profile
The transport and logistics holding of Sergey Shishkarev originated from the forwarding company Delo founded in 1993. The core business areas are stevedoring and transport and logistics. Consolidated results of Delo group are not disclosed. According to IFRS the net profit of Deloports, which owns NUTEP container terminal, the service company Delo and 75% of KSK grain terminal, in the first half of the year amounted to 2.4 billion rubles, the revenue - 4.6 billion rubles.
Since the end of 2017, GC Delo owns 30.75% of Global Ports (the same share is held in MAERSK APM Terminals). According to IFRS the net profit of Global Ports in the first half of the year — $36.2 million, revenue - $181.2 million.
At the end of November, GC Delo acquired 50% plus 2 shares of TransContainer at the auction for 60.3 billion rubles, having beaten Yenisei Capital of Alexander Abramov and Roman Abramovich and PGK of Vladimir Lisin. According to IFRS the net profit of TransContainer for the first half of the year — 6.1 billion rubles, revenue - 41.5 billion rubles. The President of GC Delo is Sergey Shishkarev.
Source -
The "Kommersant" newspaper No. 239 of 26.12.2019