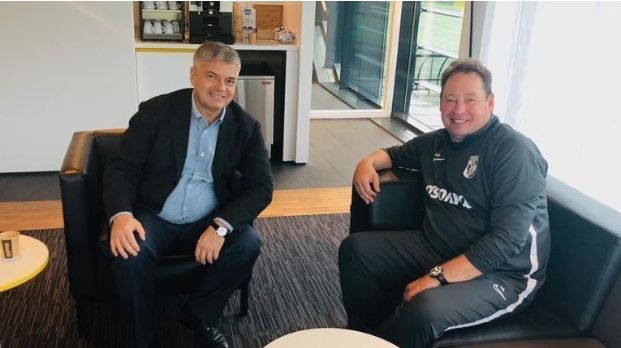 The President of the Handball Federation of Russia Sergey Shishkarev told Sport-Express about the meeting with Leonid Slutsky, the Head Coach of Vitesse handball club at the club base in Arnhem.
— We were happy to see each other, — said Sergey Shishkarev.
— He is in a good mood. Everything is ok, I am glad that he is in a good physical and intellectual shape. I hope that his Vitesse will finish in the top 3 of the Dutch Championship.
— What brought you to the Netherlands?
— There was a meeting of the Executive Board of my company. I thought that it would be a nice idea to take a look at the fantastic sport infrastructure in Arnhem, it's just one and a half hour away. We visited the large Olympic Center and the Handball Academy inside it. The Dutchmen followed the Soviet way of sport development, including development of handball. They told how they trained young athletes. Suddenly we found out that Vitesse club base is situated nearby. Leonid met us and showed the base, told about the team's preparation and how the football academy works. It was nice to see Berezutski brothers – the both speak English well.
— Did you invite them to the matches of our handball national teams?
— For sure! Leonid Slutsky is a welcome guest, we are always happy to see him at the matches of our national teams. I also invited him to the DELO WOMEN'S EHF FINAL4 in Budapest. I hope that Rostov-Don will make it to the final matches. I also told him about the women's CSKA and noticed that he was particularly happy about it. He promised to visit its match as soon as possible.
— Did you see something interesting in Dutch sports?
— Almost everybody in the Netherlands play football, and those who don't play football, do another sport. Slutsky told that 1000 players are registered in five amateur clubs situated around the Vitesse base! There is a huge number of volunteers including coaches. At the same time the transfers of young players from the academies to the professional clubs are not regulated at all – this reminds our Russian system.
— Did the Russian women's national team prepare for the Rio 2016 Olympics here?
— We are within walking distance from the hall where the match of the Women's EHF EURO 2020 Qualifiers between the Netherlands and Austria will be held. This is the place where the last pre-Olympic tournament was hosted. We finished 4th after the Netherlands, Sweden and Montenegro. However, we won the Olympic Games (smiles). Maybe we will feel nostalgia when we enter the hall. We sign the Cooperation Agreement with the Netherlands Handball Association. Their men's national team is not strong enough, but the women's team is quite good. We will have a sparring with them before the next Olympics – in Moscow, in South Korea or in Japan.